New Portal Online Accounts!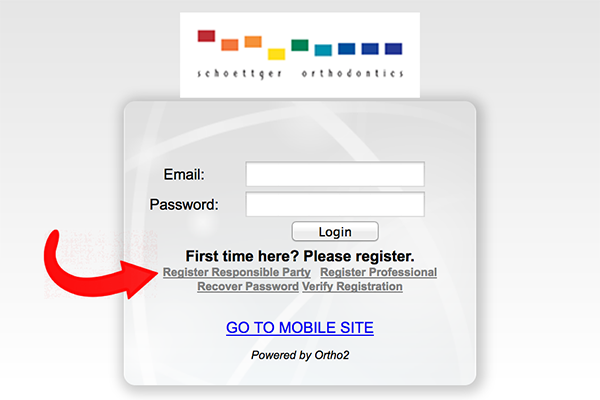 Big news!  We have integrated a completely new and advanced practice management software into our office, meaning our patients are now able to use a better online account system!
Even if you had an online account set up with our office before, everyone must now create their account once more for our new program.  Click here to open a new window with the Portal log in screen, then click the small link that says "Register Responsible Party" (pictured above).
Fill in the information for one active patient in your family and the system will automatically add other patients in your family if applicable.  "Responsible Party" means the one person's name in our office software listed as the person in charge of the account.  The email address and cell phone fields are also referencing the information in our software for the responsible party.  If you receive email appointment reminders, that email is the one we have in our practice software.  If you have an an error after attempting to enter this info, most likely one of these fields is different on our end.  If you cannot get to the next page, please call our office at (402) 423-8000 or email office@schoettger.com and we can quickly and easily help you get started.
Once you click "register" successfully, you will be sent a text and an email (emails may take a few minutes to show up in your inbox) with a verification code.  Enter that code along with a password you create in the next page and click "verify."
Clicking "verify" will redirect you to the log in page where you can use your new password to log in and see all of your info!
Use this system to:
*See detailed appointment and financial histories for all members of your family in the same place, and even confirm appointments.
*Easily print receipts for your payments if you need them for your flex plan or otherwise.
*See animation videos on good oral hygiene, retainer care, and how to deal with a pokey wire.  We can also add treatment specific animations at your request!
*Refer someone to our office using the button on the lower left.  A referral or review is the highest compliment we can receive and we would love to serve more amazing families like yours.